Hannah's Single of the Week
Well, we WANTED to have a single of the week, oh yes. Is there anything this week, however, that I'd actually bother to buy? No chance. But when did that ever stop me?
Mousse T ft. Emma Lanford
Is It Cos I'm Cool?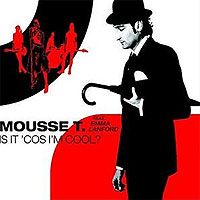 Wow? Is this the same Mousse T, the producer who did 'Horny' back in the day? What eurotrash that was! This, on the other hand, is different. Incredibly different and incredibly...to excuse the overuse of the track title...cool. It's bouncy summery pop, it's happy, and it's not about sex either. It has a real bass, vocal harmonies, synthy bits, strings, and a drum beat that makes it seem more indie-pop than something from a German producer. It also has...a guitar solo! And don't forget, the video has a James Bond-esque influence, as if it couldn't get ANY better. In truth, it's probably not cool for me to like this song, but I do. It's better than most of the stuff out there anyway.
4.5/5
Non-Record of The Week:

Jamie Scott - Just
He may have the name of one of my best friends, and the title of probably THE most bonza Radiohead song, but it's rubbish, and HE's rubbish. Avoid. 1/5