Hannah's Single of The Week
It's a
HUGE
week for quality new music, which makes my job exceedingly hard. So, here are a LOT of honourable mentions, along with my usual single and non-single of the week. Bear in mind I've ignored some of this week's releases and that they can be found
here
.
Honourable Mentions:
EMBRACE - 'GRAVITY'
It's a Chris Martin-penned piano ballad. Enough said. It's simply gorgeous and well worth a look into, even if it does seem that Chris Martin is writing for everyone these days.
3.9/5
JOJO - 'LEAVE (GET OUT)'
I thought she was 17 or something like that, and she's 13. Thirteen? And it seems she has more talent than all of S Club 8 put together. The song is almost impressive, with wide appeal, and she deserves a point just for being able to sing and perform, and look, like she does, but you can't help thinking that something that is lyrically about a more serious relationship is a little beyond her years.
3.2/5
Single of the Week:
THE THRILLS - WHATEVER HAPPENED TO COREY HAIM?'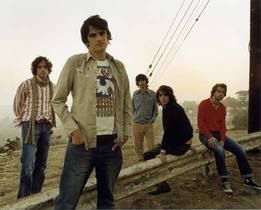 So who was Corey Haim? Well, after research and recognising the name to some extent I discovered he was one of the 80s brat pack along with fellow Corey, Corey Feldman, who I know only too well from excessive studying of 'Stand By Me' which my English teacher has rendered pointless, but anyway. I liked The Thrills before, but this is something new. There is a development on their previous sound, which is always a smart move in the world of pop-rock and the chorus is a true hook, in all its simplicity. Just one piece of advice - don't expect eye-candy. The lead singer now has the most atrocious beard.
4.2/5
Non Single of the Week:
SARAH CONNOR - 'HE'S UNBELIEVABLE'
A crash course in how not to use the piano...unbelieveable? I think not.
1/5