Chart Abominations...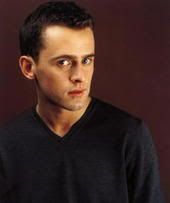 It's still scary - the 'official' rock charts have
The Darkness
at 18 with
'Christmas Time (Don't Let The Bells End)
' and
Muse
at 21 with
'Sing For Absolution'
. Impossible. Unless there is a very odd station devoted to playing Christmas tunes, all year round. This brings me to once again question the sanity of the people who compile these charts, including the part about what constitutes 'rock' music...
The first 'official' download chart was released yesterday by the lovely Scott Mills (right). God, he seems to be everywhere, doesn't he? Like Vernon Kaye or Linda Barker. Anyway, it's supposed to be an accurate representation of what we're legally downloading.
Erm...how many people legally download tracks? Stupid question, I did, but they were free, thanks to me having two Big Macs at McDonalds. That rather tasty junk-food orientated offer has ended now though, unfortunately for any other cheapskates apart from myself wishing to cash in. ;)
One of my tracks was 'This Love' by Maroon 5. Maroon 5 have THREE entries in the top 20, and Keane have two. Impressive, I must say, and rather interesting. It is, however, a little disappointing that a re-release of a Westlife song AND Blazin' Squad make the top two spots. Then again, they were 'download exclusives'. The 'Apocalypse Please' exclusive from Muse makes number 10, which is nice, considering it's their...5th release (in any format) from their latest album. And we get 'Butterflies and Hurricanes' on its way too! How bonza!
For anybody who is interested, you can check out the chart in full, with all 20 new entries, here!