Extreme Box Five Appreciation Mania
I really can't think why I haven't done this already. Box Five are beyond amazing! In fact, if it wasn't for Box Five there would be NO Whatever's Left. At all. Not a sausage. So, why are Box Five so incredibly bonza? Please read on to find out our:
10 Reasons Why We Love Box Five...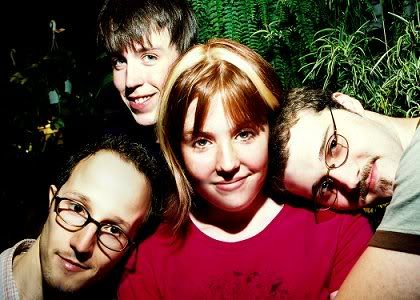 1)
Mary
has the best hair colour on the planet. Power to the redheads, oh yes.
2) If their demo of
'The Wrong Impression'
is SO great already - what the hell will the finished version be like?
3) They cover
Radiohead
songs at their gigs, so clearly have sublime taste in music. I also know Mary is a bit of a fan of the wonderful Matt Bellamy, and Muse, as if it couldn't get any better.
4) Again, if it wasn't for
Box Five
, we wouldn't exist. Why? Well, once upon a time I, Hannah, stumbled upon
Mary Bichner
's arrangements of
Radiohead
tunes for piano (thanks to a friend at school) and found my way over to two of her websites - her journal and the
Box Five
website. After listening to her songs, and seeing some of her inspiring entries, I decided to get a blog of my own. From there I discovered the quite wonderful Michael and Crystal of the LP, who got me hooked on pop-blogging. Being on Michael's friends list also meant that
Leo
found me...and the rest is history.
5) They have a completely and utterly bonza website, which you can find
here
.
6) On this completely and utterly bonza website, you can find lots of demos, many recorded at live performances, or by Mary in her bedroom. Most are full tracks and are extremely good.
7)
Mary
is a lyrical genius, and, with the amount of rubbish we do seem to be getting in the charts at the moment, her songs are a breath of fresh air. They're something...different. Especially
Off The Hook
.
8) And before you think it's just Mary, it's not. In this extremely talented four-piece is Joe Bichner, Mary's brother, who likes chocolate pop-tarts (which are amazing, so we like him) and plays guitar. There's Brian, the bassist, and we all know how I love bass guitars. Doug is the percussionist for Box Five...and boy does he seem to wear glasses with style. I think he needs to give some advice to Leo there... ;)
9) I can't actually find any fault with them aside from the fact they're not in the UK!
10) Something 'very special' might be about to happen to Box Five which would 'translate into beautiful and delicious things' for their recording and touring plans. This would be amazing, since I cannot wait for Box Five to make it over to the UK.
Thanks to Box Five for letting us use one of their lovely new photos!