Hannah's Single of the Week
Honourable Mentions:
Girls Aloud - 'Love Machine'
The Aloud deserve a special mention from me this week, despite the inevitability that Leo is probably going to proclaim them his single of the week, the month and probably the whole year. I
did
lose a bit of respect for the girls when I realised they weren't performing live, after that seemed to be the whole point on the TV show...but look, they have almost shook off that reality tv label, and aren't 'that band off that show' anymore. Extra bonza bonus points go to Cheryl, Nadine, Nicola, Sarah and Kimberley for producing a song that sounds nothing like anything that's out right now, even if they didn't probably write it...
3/5

Green Day - 'American Idiot'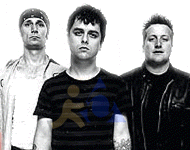 I hadn't actually heard Green Day until earlier this year. Before then, they were just a band name of one of the girls' t-shirts at school. I can't say they're my 'thing' but I do hold a certain respect for this song, its video especially, and it's incredibly catchy.
3/5
Also worth a listen are
Razorlight
-
'Vice'
(something suspiciously Libertines-like) and
Dido
-
'Sand in my Shoes'
which IS better than her previous single, at least. You can't help thinking she's stretching it a bit though...unlike this man: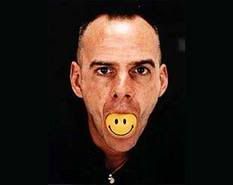 Single of the Week
Fatboy Slim - 'Slash Dot Dash'


He's back, and with an incredible tune - probably my favourite of all his releases so far. It also has possibly the most daring video of the year so far, which, if you haven't seen it, can probably be summed up by the words 'nudity' and 'black marker pens'. It's extremely clever though and adequately sums up the energy that makes up the song. It's a fun slice of funk that sounds incredibly like it should be on an ABS flash vid, but don't let that put you off. It's crazy and it's repetitiveness doesn't get out of hand, lasting a mere two and a half minutes. I'm still waiting, however, for Norman Cook to put something out which matches the brilliance of Basement Jaxx. 3.8/5
Please DO NOT buy:

Candice - 'Hello' - another Avril Lavigne wannabe? We're getting bored now. No thanks. 1/5
Wait a cotton-picking minute!!!!
Annie - 'Chewing Gum' is out this week?! Nobody bothered to inform us, or indeed Popjustice, about this! It's another 'nothing quite like it' song, with some kind of participation from Richard X. Please give it a listen, or a certain person will probably ignore me for life for not bigging-it-up. :P