Hannah's Single of the Week
Honourable Mentions:
Fatboy Slim - 'Slash Dot Dash'
Apparently,
it really
is
out this week. Unfortunately there are several better singles around too, and I can't be bothered to write an extensive review, either. :P
4/5
Muse - 'Butterflies and Hurricanes'
Really, it IS my single of the week, but considering it's inevitable that the
Jamie
will produce a gushing review of it sometime soon, I'll leave it to him to sing its praises. It is, however, one of their best singles yet.
4.75/5
Groove Armada - 'I See You Baby'

(Fatboy Slim Remix)
The
Fatboy
is working his magic once again on this track, an 'oldie' from when I first chart-watched. Recently it's been on a car ad, and yes, it's amazing what commercials are doing for the music industry at the moment. Hopefully it will be an even bigger hit than it was before. It was great then, and it's great now.
4/5
Single of the Week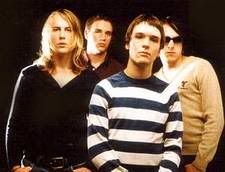 The Ordinary Boys
'Seaside'
I've decided that I quite like the
Ordinary Boys
and I really need to listen to them more carefully, because this song is just fabulous. So are the band, whose rather bonza lead singer was COOL enough to go on
Never Mind The Buzzcocks
this week, even if he didn't play for
Bill Bailey
. The lyrics are rather...close to home. Note in particular...
'With better things to do...like sitting in a room and staring at computer screens...'
Ahem. Besides the
Hannah
-comparisons, the song is undeniably British, especially with the seaside-ness. It's three-and-a-half-minutes of catchy singalong, with a great melody and extra brass. Loathe it at your peril.
4.1/5
Avoid at all costs:
Ashlee Simpson - 'Pieces of Me'
Who DOES this girl think she's fooling, apart from
Scott Mills
? She's being marketed as
Jessica
's punkier little sister. Does she really think we'll be baffled by thinking 'rock chick' over a bit of hair dye and a track similar to what would be churned out by
Jennifer Ellison
? Maybe some popular radio djs are, but we're not.
1/5