Jamie reviews... 'O'

As the
Hannah
has already reviewed an album, and the
Leonard
is threatening to do so, I thought I'd have a go myself.
To make things nice and easy, I've chosen one of my favourite albums of late, the stunning '
O
' by
Damien Rice
. For those of you not in the know, Rice is an Irish singer/songwriter and is helped along by his girlfriend
Lisa Hannigan
(not to be confused with
Buffy the Vampire Slayer
and
American Pie's
Alyson Hannigan) on many of the album's tracks.
'
O
' starts off on fine form with the beautiful '
Delicate
', which begins as a very apt name indeed, but as the song progresses, the track increases in intensity and strength, without losing sight of the meaning and feel that was intended. Indeed, this style of writing suits Rice well and is a feature of many of the albums 12 songs, for example '
The Blower's Daughter
' or '
Cheers Darlin'
'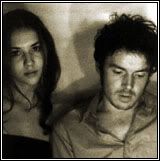 Other songs take a different approach. '
Volcano
' plays like a duet between Damien and Lisa, whereas '
I Remember
' could very easily be two entirely different songs played one-after-the-other, a sentimental ballad by Lisa, followed by a bitter lament by Damien. This mélange
may
sound a bit odd on paper,
(does this phrase work on the internet?)
but provides such powerful contrast that brings both parts together in an almost irresistable way.
A feature of this album that I have to mention is the hidden tracks. After the 'final' track '
Eskimo
' (complete with Finnish opera), you are treated to a good few minutes of silence before '
Prague
' the only song on the album to contain an expletive, begins. This is also followed by a lengthy silence, but the wait is rewarded by a truly haunting version of '
Silent Night
' by Lisa (with new lyrics, naturally). '
Silent Night
' ends the album in an incredibly classy way, and Lisa's wonderful voice gives it a quality that removes it so far from it's sunday school connotations.
The one thing that I really must criticise the album for is its lack of variety. The majority of the songs are slow, acoustic ballads, and those that aren't haven't departed from this formula by very much. It is a bit of a shame that no songs such as '
Woman Like a Man
' (released on EP but not on the album) appear, just to break it up a little bit.
However, if you're looking for something recent and Irish that isn't Westlife, Boyzone, B*witched or any of their constituent members, then this album is definately for you.
If you liked the radio edit of '
Cannonball
', the far superior original version can be found here.
Even if you've
never
heard anything by Damien before, I implore you give it a go. You won't be disappointed.
For more info, click here
4.5/5
A near-perfect masterpiece.