Jamie's Single of the Week, by Hannah
To put it simply:
Muse - Butterflies and Hurricanes
The best thing you could possibly buy right now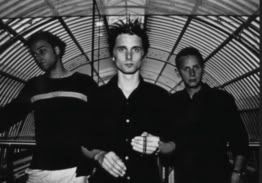 1) It's the best song off Absolution
2) It has an amazing Rachmaninov piano solo
3) The man deserves an award JUST for playing that Rachmaninov piano solo
4) We have the sheet music, we can prove it!
5) Matt Bellamy is awesomeness personified.
6) It sounds like a film soundtrack
7) Eerie, almost hypnotic lyrics
8) The transition from Butterflies to Hurricanes and vice versa
9) Muse. Are. Just. Bonza.
10) You don't want to argue with Jamie (not the popstar) Scott, especially when he's frustrated by uni applications.