'Radio' star?
We really don't know what to do with that
Robbie Williams
. He has a new single coming out, along with a greatest hits album and a new autobiography. Yet he's also releasing an album under the name
Pure Francis
... I've learnt not to believe a lot of the stuff you hear about
Robbie
unless it comes from his own mouth...but not to exactly trust that either, because he tends to be extremely sarcastic like that. Read more
here
.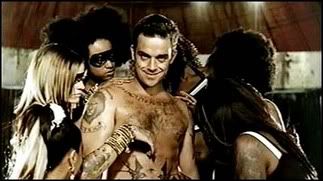 A snapshot from the video for 'Radio'

Aside from all of that nonsense, he DOES have a new single out, and it's called 'Radio'. It's been described as 'electro' and 'experimental' which is slightly worrying, but then you could describe Radiohead as those things. Knowing me, I'm positive I'll pass it off as complete shit, then grow to love it. I was saying the same thing about 'Feel' this time 2 years ago...except that really was shit.
Somehow those folks at
popjustice
have managed to get there before the rest of the general public, considering the premiere radio plays are on Friday (oh joy!) and the video is being shown first on (all shit) T
op of the Pops
. The view is somewhat...mixed, but how they got to hear it, hell only knows...
I can't wait till Friday...even if I have to endure a whole 'first day back at school' first. Bugger.