Reindeer Section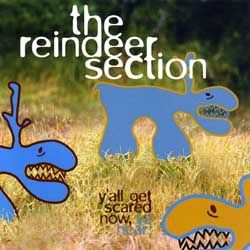 Considering my good friend, and
Gary Lightbody
obsessive, Emma, has downloaded, bought or streamed a fair few tracks on my recommendation, I thought I should return the favour and make the effort to listen to something she loves. Obviously, it
does
involve
Gary Lightbody
, and it is Scottish supergroup
Reindeer Section
.
There seems to be some really bonza stuff coming from Scotland right now, and not just from
Snow Patrol
. Mercury Prize-winning and eyeliner-wearing art-rockers,
Franz Ferdinand
have been dominating the indie charts and the rather charming
Callum Sinclair
has also been invading my mp3 player of late.
Reindeer Section
itself is formed from bits and pieces of such Scottish acts as
Mull Historical Society
,
Belle and Sebastian
,
Mogwai
and Lightbody himself. The theory goes that if you love any of the above, especially
Snow Patrol
, this should be ideal.
Learn more, and stream some tracks
here
...