Single of the Week According to Leo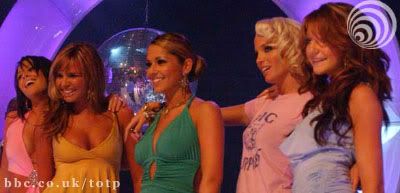 Obviously, this week's Single of the Week is
Girls Aloud - 'Love Machine'
. It's no 'No Good Advice' or even 'The Show', but it does contain all the elements of a fantastic Girls Aloud song: Nadine, Kimberley, Sarah, Cheryl And Nicola.
Some of its brilliance has been overshadowed by the (admittedly genius) way the girls have managed to get 'negligee' into a song. Well, OK, the
girls
didn't do it, Xenomania did. But you get the idea.
QUESTION:
Why do they always give Nadine the part which has no identifiable tune to sing? Or does it have an identifiable tune until they give it to Nadine to sing?
Hannah would want me to include a bit of criticism (because she's mean like that) so: if we're being honest, the lyrics are utter nonsense aren't they? They sound cleverly put together sung, until you actually listen to
the words
and you realise they're singing about eskimos and breathing underwater, for no clear reason. Creative, you might think, but some of it's just a bit lazy - "Let's just find any old words ending in -ation... ooh, and when we run out of them, stick in 're-arrange ya'".
It brings me almost physical pain to criticise the Aloud, so I'll stop there. They are on nearly top form and the song stands out above most of the other releases this week. It's a shame it won't get to Number One because of...
...
Eric Prydz - 'Call On Me'
It's annoyingly catchy and I'd imagine just annoying
full stop
for a lot of people. I know I should hate it. But I don't. I know I should
loathe
the video. But it actually makes me laugh a lot. So.
I'll give it 3/5.
AVOID AT ALL COSTS:
Dido - 'Sand In My Shoes'
Joss Stone - 'You Had Me'
Because they are Dido and Joss Stone.
I realise I'm probably far too late getting round to posting this to actually influence your choice of singles purchases this week. But
Hannah forced me to
I felt I should post. It's all pointless anyway - look at last week's charts: McFly at just Number 3 with Brian McFadden and Nelly at Numbers 1 and 2. Sigh.
COMING SOON:
Some sort of review of Darren Hayes' new album 'The Tension and the Spark'.