We HAVE the massacre!
Jamie
sent me a file this morning, sarcastically saying that I'd 'love it'. To aid the deception further, the file was renamed
'Lovely Song'
So, I am 'happy' to say I have finally heard the
Jessica Simpson
brand massacre of
Robbie Williams'
Angels. There is only one word to describe it. It is
SHIT.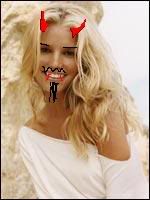 1) Painful high notes (think 'all' and 'waterfall')
2) They wrecked the instrumental - there is none of that amazing guitar bit
3) Instead she sings a load more painful high pitchedness over the top of it.
4) She can't sing, can she?
5) They changed the piano backing! You
CAN'T
do that!
The only good thing - it shows how
good
the
Robbie Williams
version is. And it persuades
Jamie
to think it's a 'masterpiece'. That's
Robbie Williams
, not
Jessica Simpson
. So, Whatever's Left recommends that to listen to this piece of musical crappiness. And you can do that right
here
.
If Jessica Simpson or any of her people have objections to this download, which is only up for 7 days, intended as a sampler, and should be deleted as some kind of celebratory gesture, please feel free to contact us, and we will remove it.