Hannah's Single of the Week
Runners Up:
Manic Street Preachers
-
'The Love of Richard Nixon'
No guitars? Not even a decent melody? What are the Manics thinking? It certainly gets into your head though, I'll give them that. However, in comparison to their
'Everything Must Go'
era, it's nothing spectacular.
2.5/5
Travis
-
'Walking in the Sun'
It's nothing impressive or out of the ordinary, unless you like Travis, regardless of what they do. Ooh, me then. The video's worth a watch though -
Fran Healy
versus the grim reaper. Guess who wins?
3/5
Single of the Week: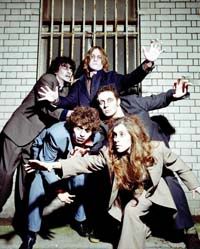 The Zutons - 'Don't Ever Think'
Curse this song! I have had its catchy hum inside my head for the best part of 4 days now, and it isn't showing any sign of shifting. This new single from the
Zutons
ISN'T
on their album, entitled
'Who Killed The Zutons'
but instead is a bit of a one off. And we all know one offs (Like
'It's Only Us'
) are nothing short of brilliance. These hyperactive Liverpudlians follow the
Dogs Die In Hot Cars
template of 'guys and one girl' and produce similar quirky (but admittedly not
quite
as quirky) tunes.
'Don't Ever Think'
is an amazing speedy singalong, full of vocal harmony, saxophone, hand-claps and a general jive influence. It's less than 3 minutes of perfect musical craziness. See a little selection of their videos at
Launch
.
3.7/5
Avoid at ALL costs:
Really, there isn't an awful lot else to get excited about this week:

Darius - 'Kinda Love'
Apparently Mr Steve says he's actually an alright kinda (oh dear, cheesy song reference) guy. This doesn't stop the song from being...crap really. It sounds like his others, it still has him with a smug grin on the video - so why couldn't they have just left it at colourblind?
1.5/5
The Hives
- 'Two Timing Touch and Broken Bones'
It's not anywhere near as good as 'Walk Idiot Walk' and we were really looking forward to something that bettered that...
1/5