How rubbish is Daniel Bedingfield? (A Non-Single of the Week from Jamie)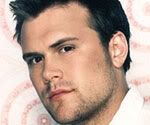 It is perhaps somewhat fitting that
Daniel Bedingfield
may realistically find himself at the top of the charts on Hallowe'en with his new 'song'
"Nothing Hurts Like Love"
, as he is, just a little bit scary. And also undeniably dull.
The charts as of late have had an influx from the
other
Bedingfield,
Natasha,
and even though she's not my cup of Earl Grey, she does appear to be able to hold a tune to some degree, and is at least fairly lively about it.
Not so for our
Daniel
. I know lots of us hoped wildly that carreering off whatever stupid vehicle he was stupidly driving at a stupid speed might have scuppered his frequent forays into the world of music, but unfortunately, he's come back.
"Gotta Get Thru This"
was alright. Nothing special. It was upbeat enough, and he could blame the fact he'd lifted the vocal by an octave for the squeakiness... but what's he blaming now?
Every single since then, except for the dire "
Friday"
has been lifeless. Rubbish and turgid... even boring. Songs that drag on for hours and hours and hours...
And
"Nothing Hurts Like Love
" is one of them. When I hear it, time stands still and it won't finish quickly enough. It can put a real dampner on an otherwise good day, so
god
knows what it would be like if you're having a rubbish day.
In the video, and also at the moment,
Daniel
's hair makes him look fat. Like a 50 stone heifer kind of fat. He also goes around kissing a lot of girls.
Dream on Daniel. With that song you'll scare them away.
When in interview,
Daniel
would appear to be the craziest person on the planet. Then he goes and sings a load of drivel to a rubbish tune slowly and badly... if he used a little of his energy to produce a more fitting song, then he wouldn't be so boring and so terminally disappointing, I feel.
Maybe we should all teach him a lesson. Until he produces something that isn't suicide-worthy, let's not buy his songs. Please... for the good of the country's music...
0.235/5