Jamie's Single of the Week...
This week, I feel the 'New Releases' section of the BBC's TOTP website may in fact be lying to me. I checked a couple of weeks ago, and thought 'GREAT!' when I saw a certain song was to be released upon us. However, here we are, and there's no mention of it. However, I'm not going to let this stop me, especially as a few days ago, this site said
this
. So if this turns out to be a lie, blame them.
SOTW:
Damien Rice - 'Cold Water'/'Lonely'
Ok, well you may have already noticed, but I am, in fact, a huge fan of
Damien Rice. 'Cold Water'
is taken from the album '
O
' which I reviewed on this very site a while back. It is a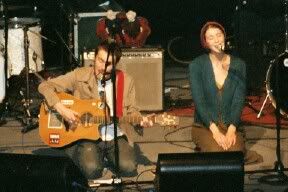 beautiful duet-esque song, sweeping effortlessly between the two vocalists,
Damien
himself, and the lovely
Lisa Hannigan
(who is quite possibly the thinnest woman on the planet). It is a song which builds in intensity, from the docility of the opening lines, as it becomes more and more heartfelt with the growth of
Vivienne Long
's cello, and then drifts back into a pseudo-whisper to make a somewhat fitting ending to this song which could easily fit itself into any artistic film's sountrack.
However, this song, as you may have noticed is a double A side. This means that
'Cold Water'
is twinned with '
Lonely'.
This is where I have a problem... '
Lonely'
? Never heard of it! I remember there being a track called '
Lonelily'
on the
'Woman Like a Man'
EP, but I can't claim it's the same song, as I don't know. However, '
Cold Water
' is in fact good enough to carry anything, and have you ever heard
Damien Rice
singing a bad song??
If you didn't all rush out to buy the album after I reviewed it for you (and why not?) I do hope you will go out and by '
Cold Water'
because I like it a lot.
4.37/5
Je n'aime point...
VS - 'Make it hot'.
There really is very little I can say about this, other than:
No, no, no, no, no, no!!
0.2/5