Supergrass is 10!
This year it all seems to be about 'a decade since
'Definitely Maybe'
while the thought of 10 years of
Supergrass
didn't really make much impact at all. There was the album, which did less than brilliantly, a tour, and various bits of promo, including two songs (nobody EVER does two songs!) on
Jonathan Ross
and C4's
Popbeach
. So, you see, I have a tiny problem here. Why does a band who have produced some of the most amazing singles from 1994 to 2004 barely get any recognisition, while you can't move for hype about an
Oasis
album which has no tunes that somebody my age can remember? Of course, I have no problem with
Oasis
, but often the phrase 'a little over-rated' springs to mind.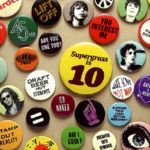 'Supergrass is 10'
(please note they didn't have the inexcusable cheesiness to call it 'greatest hits') starts off with a bang with drug-anthem
'Caught By The Fuzz'.
With fans and critics, it's achieved cult status, although its sheer age prevented me from hearing it until I actually bought the album. And it's very good. I have a feeling I should play it to a few of my friends, just to get its 'message' across.
It is at this time that I should mention that
'Supergrass is 10'
also appears in DVD form. I don't own this, but
BUY IT
.
'Pumping On Your Stereo'
has one of the most innovative pop videos ever made. On the other end of the video scale, there is
'Alright'
- a song which you could call
Supergrass
' career maker - a poppy summer-singalong which has a rather embarassingly cheap video.
I DO have a favourite song by
Supergrass
, and indeed, it is
'Moving'
. I have liked it even since it was first released. It grabbed me then, and it still grabs me now. A beautiful song, full of contrasts and meaningful lyrics,
'Moving'
is one of those songs you really shouldn't avoid.
'Richard III'
is also very good too.
The incredibly catchy
'Grace'
and another 1997 release, the offbeat
'Late In The Day'
are next up, followed by
'Seen The Light'
and their second charting single
'Mansize Rooster'
. You really can't fault
Supergrass
on their use of keyboards here...
'Sun Hits The Sky'
is one of my ULTIMATE summer anthems. You really can't fault it, especially with that synthy solo bit. I have to get Chris to play that on guitar. The album is let down a bit by new single
'Kiss of Life'
which frankly is a bit boring and features one of the most cliched lyrics in pop. Okay, possibly more. However, that isn't the record's real flaw...
In fact, the major problem with the album is that the second half are largely uninspiring 'fillers', except for perhaps
'Lenny'
. Some aren't even charting singles and the terrible
'Lose It'
only made
75
in the first place! Maybe
this
is why they dropped the 'greatest hits' title.
Oh, and if your name is
Michael Bush
, it has a witty cover adorned with pin badges. You can't help but love it.
4/5
- just make sure you stop at track 15!