UK Download Top 20 (20/10/04)
Sorry we're a bit late this week, but oddly enough the BBC site wasn't showing us the new chart yesterday afternoon. Here, even if it's a little belatedly, is the Official UK Top 20 Downloads:
New Entries:
The awesome
'Mary'
by the
Scissor Sisters
just scrapes in at
20
, which is rather pleasing, especially after the recent departure of
'Laura'
.
Lucie Silvas
is new at
16
with
'What You're Made Of'
- if you want to hear something else by Lucie, head over to
Into the Groove.
It's on our links bar.
Stereogram
make a top 10 appearance at
8
with
'Walkie Talkie Man'
. We
LOVE
this song. However, we're not so keen on
Christina
Aguilera
's cover of
'Car Wash'
which places at
4
.
'The Damage'
by
Marillion
is this week's highest new entry at
2
.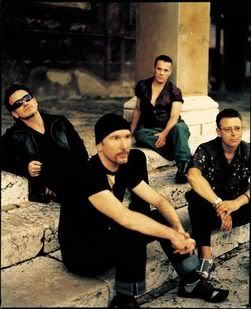 Re-entries:
Duran Duran
re-enter the chart again this week with
'(Reach Up For The) Sunrise'
at
14
.
Longest Runners (8 weeks):
Running for the entire duration of the top 20 so far are
Green Day
with
'American Idiot'
(2)
and
'She Will be Loved'
by
Maroon 5
(6).
Number One:
Yes, it's still
U2
with
'Vertigo'
which, unsuprisingly, is very good. This is its 3rd week at the top spot.
The Official UK Download Chart is based on the most popular, legally downloaded tracks in the UK. It's compiled from the sale of permanently owned single track downloads and doesn't include streamed downloads, subscriptions or free downloads. The Download Chart is broadcast every Wednesday at 6 pm on Radio 1.