UK Download Top 20 (27/10/04)
New Entries:
New this week is
'Wishing On A Star'
by
Paul Weller
, which scrapes in at
18
. Top 5 single
'Millionaire'
by
Kelis
Andre 3000
is also new at
11
.
Big Climbers:
'Flashdance'
by
Deep Dish
climbs a massive 8 places to reach the dizzy heights of number
5
, while WL favourite
'Mary'
by the
Scissor Sisters
moves up 10 places to
10
!
Girls Aloud
with
'Love Machine'
also climbs 4 places to
13
.
Longest Runners (9 weeks):
'American Idiot'
by
Green Day
and
'She Will Be Loved'
by
Maroon 5
both make a massive 9 weeks on the chart!
Number One: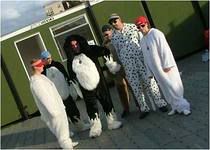 And yes, with the excessive plugging it has received on
EVERY
Chris Moyles
show this and last week,
Mouldy Looking Stain
have clinched the top spot from
U2
, rather undeservedly, this blogger thinks.
'Dogs Don't Kill People (Wabbits Do)'
is a not-very-funny parody of the similarly titled song by
Goldie Lookin' Chain
, instead starring Chris, Comedy Dave and the rest of the breakfast crew. Dressed up. Sure, the majority of the money is going to
Comic Relief,
but it's gone beyond a joke. We preferred the one entitled
'Peter Andre'
.
Edit: After several searches related to the Stain, we have decided to helpfully add a
link
to somewhere you can download the track. We'd also like to say we do listen to the Chris Moyles show, and enjoy it, and that we're just not fans of this song. We also think Aled is great.

The Official UK Download Chart is based on the most popular, legally downloaded tracks in the UK. It's compiled from the sale of permanently owned single track downloads and doesn't include streamed downloads, subscriptions or free downloads. The Download Chart is broadcast every Wednesday at 6 pm on Radio 1.