Gwen Stefani - 'Love Angel Music Baby'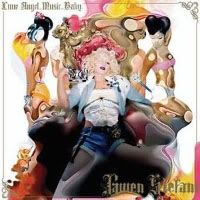 Hello! I promised Hannah I'd make a short post about the Gwen Stefani album, '
Love, Angel, Music, Baby
'. It's not a full review, it's just some of my thoughts on the album.
First of all: it's a little...odd. I don't what I expected but it wasn't this. Not that it's bad - it's very listenable, although a couple of songs probably fall down on closer inspection.
What You Waiting For
5/5
... is genius. As you know.
Rich Girl
4.1/5
Yes, it is indeed based on 'If I Were a Rich Man (nanananannanana..)', only Gwen sings about 'cleaning out Viven Westwood' and doesn't worry about little things like grammar ('If I
was
a rich girl...'). Surprisingly, it works.
Hollaback Girl
3/5
Appears to be about... cheerleading. Good job we weren't expecting anything deep from Gwen. With the, um, eloquent refrain 'Oooh, this my shit, this my shit' plus the, ummmm, inspired chant 'This shit is bananas / B-A-N-A-N-A-S', it's not exactly the work of lyrical genius.
Fun if you're in the right mood, but could get irritating.
Cool
3/5
A little bland, but a nice tune. Quite No Doubt-style.
Bubble Pop Electric
4.6/5
With a name like that, you
know
this song is going to be good. It's bubbly. It's poppy. It's electric. 'Tonight, I'm gonna give you all my love in the back seat'. Did I mention it's classy? Some of the cheesier 'bubble pop' moments are a little 'Barbie Girl'-ish, but don't let that put you off. This is frenetic, upbeat and fun and one of the stronger tracks on the album.
Luxurious
3/5
There's nothing wrong with this, it's just... not that brilliant.
Harajuku Girls
4/5
Very enjoyable, with a chorus that gets into your head and hilarious contributions from some excited Japanese girls. ('Super cute in Japanese!'). Another strong track.
Crash
4.6/5
I love this one, though the car theme does put one in mind of
Life Mechanics
a bit... You will want to sing. You will want to dance. Overall, a great pop song.
The Real Thing
4/5
The opening bars always remind me of Patrick Wolf 'Pigeon Song' and the rest really reminds me of something that I can't quite put my finger on. Madonna perhaps? It's a little Holidayish. Quite a good track anyway.
Serious
4/5
Another good one. Very Kylie/Dannii Fever/Neon Nights. If you know what I mean.
Danger Zone
4/5
Like a lot of the songs on this album, this sounds very familiar. In a good way though.
Long Way To Go
'We've got a long way to go / When snow hits the asphalt, cold looks and bad talk come / We've got a long way to go / It's beyond Martin Luther, upgrade computer.
Strange collaboration with Andre 3000, with clips from the 'I Have A Dream' speech interspersed. The bouncy chorus could irritate after a while, but it's a pleasant end to the album.
(FYI: Bonus tracks: the
'Elevator Music' version of 'What You Waiting For'
is awful, but that's where you turn the CD off.)
I don't think I've sold this album very well. I've made it sound a bit crap, really, and it isn't. It's a strong pop album. I don't think Gwen has quite found her 'sound' yet and the album is rather a mishmash of styles, but it's still an impressive debut. I would definitely recommend 'Love Angel Music Baby' to pop fans. It may not be to Hannah's taste though.