Keane - Live at Cambridge
I think it would be perfectly fair to compare
Keane
to
Robbie Williams
. Some love them, some hate them with a passion, and a large percentage of the population claim to loathe everything they produce, but then secretly play their cds when nobody's listening. Oh, and they both put on a hell of a live show.
The
Cambridge Corn Exchange
is possibly the hardest to reach venue in the UK - it's blindingly obvious they don't want cars in the city, but what the venue lacks in accesibility, it makes up for in sound and awesome, intimate gigs. Unfortunately, at the rate they're going, it's unlikely we're going to see
Keane
here again anytime in the near future.
Pre-Keane support came from
Brendan Benson
, a singer/guitarist from Detroit, who was backed by his band (cue audience snigger)
The Stiff Tissues
. Surprisingly, he wasn't that bad, and seems to have gained appreciation from several UK music magazines, along with
Jack White
. If you're interested,
Stereogum
have one of his mp3s up. Still, regardless of how amazing a support act is, what you're really waiting for is the main feature.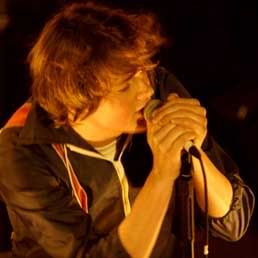 A quick stage change, and the classic
Keane
setup emerges from the wings. At the left, there's a mysterious keyboard, and a microphone. In the centre, there's a drum kit, complete with band logo, and on their right there's the elaborate arrangement of piano, stool, keyboard and laptop. Finally, the lights go down, and, under cover of darkness, the band are guided onstage, before storming straight into one of my favourites -
'Can't Stop Now'
.
One of the best things about a band who've only had one album, is that you're not going to be disappointed because they miss your favourite song.
Keane
rewarded their fans with practically all of their debut, along with
'Snowed Under'
the stunning B-side that is the source of the album's title,
'Hopes and Fears'
. Tom's bizarre dancing is gripping to watch, but what is mystifying is how
Tim Rice-Oxley
's wild limbs seem to be virtually detached from his body, yet he still avoids hitting a bum note.
Everyone was also treated to two brand new tracks, the most notable being the beautiful
'Hamburg Song'
, which was accompanied by black and white projections of the band on the back screen. For this
Tom
also played keyboards, proving he isn't just someone with shattering vocal talent, but more of an all-rounder.
The best moments of the whole show were the whole audience singalongs to
'Somewhere Only We Know'
and
'This Is The Last Time'
. There's hardly anything more thrilling than singing two of the most amazing singles of 2004 along with a couple of thousand people, and an icon-in-the-making.
The encore was a little unpredictable, but marvellous -
'Allemande'
had the entire crowd in silent appreciation, while
'Bedshaped'
raised everyone out of their seats once more to sing. I don't think I, nor anybody else in the Corn Exchange, wanted the night to end.
Bloody fantastic.
5/5
***I am currently resisting the temptation to go extremely fangirly and talk about Tom's hair, so I'd probably better not write anything more, other than that a great time was had by all (Jonny, Michael, Myself, and my Dad, who drove us all the way to Cambridge) and I bought a very nice t-shirt. That's about it!***