Room on the 3rd Floor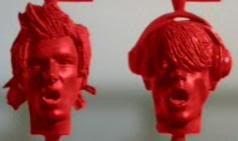 Perhaps I was wrong about
McFly
.
Sure, they might be on the same label as Busted, be made in the same way as Busted, and even look like Busted, but they are not Busted. They can certainly sing better live anyway. Then again, that's not saying much, is it?

From their album so far they've released:

'5 Colours in her Hair' - which was a bit rubbish, especially with those dodgy harmonies
'Obviously' - which was actually a quite good piece of pop, although I still refuse to fully acknowledge this, because the video was a bore
'That Girl' - which even Leo thought wasn't up to scratch



Now they go and release a fourth single...and, rather ashamedly, I've found it playing in my head all day. It's called 'Room on the 3rd Floor' and I don't think it's that bad. I have a brilliant reason though, honestly! This morning I saw the video, which is something both inventive, and so cool that I wish one of MY bands had done it. No doubt it'll probably turn out to be a total rip-off, but anyway. However, here is the BIG news, and what actually makes the track remotely credible (in a roundabout WL sort of way):
McFly are actually the next generation of musical ambassadors from
Pelamar
!




Above: Boris, Morris and Doris
View the video here!