What's the point of Blue? - Yes, it's yet another Non-Single of the Week from Jamie
It isn't even funny anymore. It seems that
noone
wants to release any good songs. When you are required by a certain lovely redheaded girl to write a
'Single of the Week'
, the job gets ever so slightly complicated, given some of the dire music churned out by those record companies. Therefore, to make life easier for myself, I have decided to make the
'Non-Single of the Week'
my personal contribution to this wonderful music experience.
Anyhoo, where was I?
Ah yes.
Blue - 'Curtain Falls'
Right, well, first things first.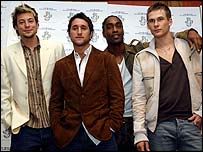 Blue, the world's most rubbish boy-band (or should I say 'Vocal Harmony Group'?) have never been able to capture my heart with their fusion of rubbish singing over an equally rubbish tune. The band, consisting of four funny looking men - Lee Ryan, Duncan James, Antony Costa and Simon Webbe - have had many a pubescent girl's heart a-flutter (not to mention all the pre-pubescent ones) for what seems like an annoyingly long time, ever since their debut single 'All Rise', whose 'clever' lyrics made it all sound like a court case. Oh how drole. Anyway, there's a chance that all our prayers may have been answered - many sources claim that this is Blue's swansong. It's a rubbish one, but if it's true I might even smile.
Upon listening to this offering, you may become a little bit confused as it is rather sample-icious. Now I don't have anything specific against samples, but please guys, try and use something a little bit more obscure (having said that, I got a little worried about the fact that noone seemed to notice the Enya sample in Mario Winans 'I Don't Wanna Know'...), rather than going with one made hyper-famous by Coolio's 'Gangsta's Paradise', and which was stolen by him from Stevie Wonder's 'Pastime Paradise'!
As if this confusion wasn't enough, the 'vocal harmony' would appear to just be a slightly rejigged and regurgitated 'One Love', a previous Blue single. And one on which the 'vocal harmony' in question would appear to be to shout over the top of each other in a tuneless fashion, whilst Lee, the wierdest looking one of the lot screeches a high note. Badly, I might add.
And then we get Simon's rap. Or, more aptly, Simon saying some of the words from the rest of the song a bit like a Pontins' Redcoat would do when attempting to rap.
Blue, and this song, really are painful to listen to. Whether it's the fact that they just seem to be shouting, or Lee's ear-splitting-ness, I shall not be even remotely sorry to see the back of them. So let's hope they are going, eh??
0.0000253/5