Exercises in Modern Pop
No, it's not a step-by-step guide to creating a musical masterpiece. It's the debut EP from
Box Five
. This little classipop group from Philadelphia, USA are one of my favourite bands, and finally, here is something that's not a low quality live clip or a bedroom demo, but a proper studio recording. It's completely independent, and it's free. Yes,
FREE
. More about that later...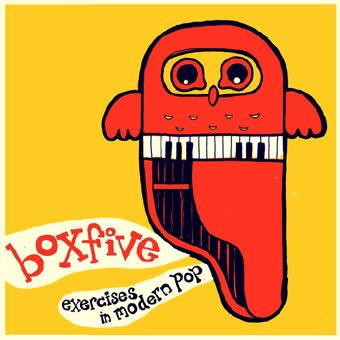 For those readers who are not familiar with
Box Five,
they are a three-piece band who I have been supporting since the beginning of 2004. Last year was a year that saw many new experiences for the band, including many performances, the recording session that led to EiMP and the departure of guitarist
Joe Bichner
. Our previous article
'10 Reasons Why We Love Box Five'
can be found
here
, whilst a recent interview with them can be found
here
.
Allow me to begin.
Exercises in Modern Pop
is something different from what you might usually find me listening to. As rules go, I shouldn't like it. There are no epic choruses, sweeping strings, mainstream indie-ness nor anything you would expect from a record I thoroughly enjoy. Instead, it is blessed with the genius of
Mary Bichner
. This truly gifted lady not only has red hair (!) but has songwriting talent, an electric personality, and the ability to not only identify a note or chord by ear alone, associate them with colours. I envy this young woman, and yet I also can relate to her in many ways, through lyrics and musical taste - the envy becomes more of an admiration.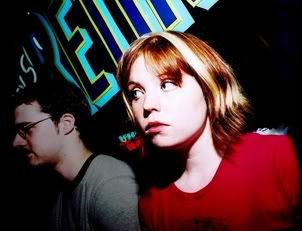 Some of my favourite songs (available in demo format from boxfive.org) do not appear on this EP, which did disappoint me. 'The Wrong Impression', 'Media Darling' and 'Killjoy', songs which have such potential, were all absent from the record. However - disappointment over. Everything about EiMP appears to be crafted, with such care, from the promotional mini-site, to the accompanying artwork, to, of course, the songs. The album is also produced by Grammy Award-winning producer, David Ivory.

'Write It Out', is the definitive introduction to the voice of Mary Bichner, a 44 second solo that still, on fourth or fifth listen, manages to send a shiver down my spine. 'Nice Boy/Blow My Cover' is a contrast to this slightly haunting beginning and is likeable bouncy pop, with an impressive piano segment and jangling guitars. It's one of those 'story-songs' that Box Five appear to do so well, and appears to show a sense of 'girl-power' which is always nice!

'(No Title)' is where subtle Radiohead influences begin to appear in the work of Box Five. Complete with soaring vocals, piano and disjointed lyrics, it's possibly my favourite song on the EP. 'Microscopic', again, appears to have similar influences, being conducted in an odd 5-beat time signature, and while this makes it a slightly harder listen than its four-beat counterparts, it gives it a sense of originality, that makes it more suited to the Radiohead-side of things. However, as a pop-song, it's one of the strangest things I have ever heard.

'Allright' is pure FUN, where electric guitar (for once!) takes the lead and the whole band really appear to be enjoying themselves. Lyrically bizarre, it's a zesty, feelgood track, and it never fails to leave me smiling. 'Snow Hymn' is the opposite, and is a melancholy duet between piano and vocal, with beautiful harmonies and an ending that left me spellbound.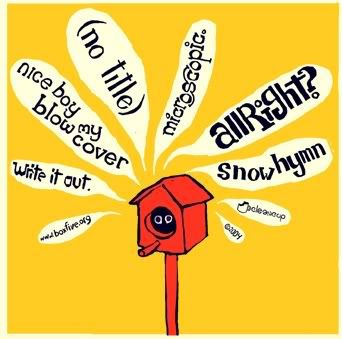 All this, in under 15 minutes. Yes, Exercises in Modern Pop is extremely short, and while in some cases this is a disadvantage and may leave Box Five not quite suitable for the mainstream audience they seek, each song leaves you hungry for more. Who cares whether Box Five are different? We certainly don't. Allow me to press the 'repeat' button...

4.5/5

Now, whether you're convinced or not that Box Five is worth a listen - hear this:

You don't have to pay a penny.
It is completely and absolutely free. Box Five have personally requested that you share this music, burn copies for your friends, add songs to your shared folder on filesharing networks and advertise it on your websites. Why? Box Five (along with myself and many others) want to see just how far this little record can go by word of mouth alone.
What a way to begin 2005...