Tsunami Relief Cardiff - WL reviews
Everywhere I have been, I've seen a whole different take on this gig. It raised a lot of money, it was the biggest thing I've been to, or think I'm ever going to go to, and I saw a lot of acts live I might not ever see otherwise. Whether this is a good or a bad thing, I'm still deciding, but the event was still enjoyable and for a good cause. I spent the entire show about 15 to 25 metres from the stage, amongst a lot of Welsh teenage fans of Snow Patrol, Feeder and GLC, joined by my parents, who still had a great time, considering they've spent the last year or so absorbing my so-called musical culture.

Arriving a little after two, as the gates opened and we drifted in, we managed to claim a spot towards the front, watching as people filled the entire stadium (which is shockingly huge) and waiting for the show to begin. At 3:10, the lights dimmed and Alex Zane introduced Camera, a fairly unknown support band. They played two tracks to a half-filled stadium and weren't bad, but didn't exactly blow me away. Katherine Jenkins was 'first' to perform, leading the crowd into singing 'You'll Never Walk Alone' accompanied by many thousand flashing red lights. Looking around the stadium it was a breathtaking sight.

Keane followed, their imminent presence given away by Richard's tell-tale drum kit. Playing five songs, including 'Bend and Break' along with all the hits, they were a real crowd pleaser, even if Tom's voice didn't sound as sparkling and pure as it did in November. It was great to see them again, and my mum was especially pleased that she finally had the oppurtunity to see them live!
Raghav, a surprise late addition to the line-up didn't get much of a reaction, except for a few die-hard fans that were close to us. Performing only two songs, he finished with an almost total lack of response from the 60,000-strong crowd. Charlotte Church, having previously been booed by the (predominantly Welsh) crowd, set about trying to imitate Eva Cassidy. It didn't really work, but it was preferable to anything more operatic.

Lemar finally emerged onstage, a little later than planned, after his band took what seemed like forever to set up, leaving the comperes desperately trying to entertain the restless audience. His set was short, and disappointing - the sound was poorly mixed and he sounded far better on the final number he did with just acoustic guitar.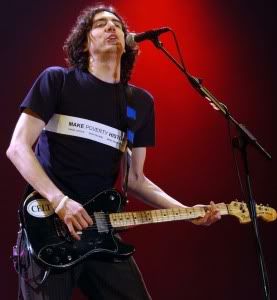 Unlike Lemar, Craig David did his entire set with acoustic guitar. Craig's never been one to exactly inspire me, although I enjoyed 'Walking Away' despite not being able to guarantee it was due to my thankful thought that it was his last song.

Fortunately, Snow Patrol came and saved the day. Gary Lightbody's smile lit up the arena, and the crowd regained their enthusiasm, singing along to 'Run' - something I can describe as one of the most exhilerating moments of the entire concert. Their performance left me with a great sense of satisfaction and after a shaky start, they sounded superb and are conclusive proof television never does a live show justice.

I even liked Goldie Lookin' Chain, even though I'm not a huge fan of their music. They're performers, I'll give them that, and being surrounded by several groups of people who frequently boo the English, definitely gives you cause to at least pretend you're enjoying yourself. And I did, without pretending, even if I still can't enjoy 'Half Man, Half Machine'.

I didn't enjoy Badly Drawn Boy as much as I thought I might, but instead admired the musical abilities of his flautist. Fair enough, I'm not a huge fan, but it would have been nice to have 'Something To Talk About' or 'All Possibilities'. Perhaps I'm a little too fussy? For Aled Jones and Brian McFadden, I left the pitch to go for a walk, although my Mum assures me that Aled was lovely and from what I saw on a television screen, Brian was as dull as could be expected. That, ladies and gentlemen, is dull.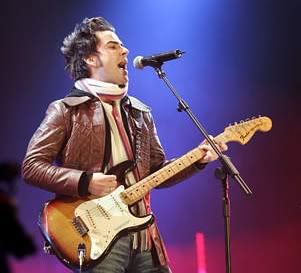 I returned just in time to see Embrace launch into 'Ashes', a band who performed a crowd-pleasing set of their big hits, including 'Gravity' and my favourite of theirs - 'Come Back To What You Know' - though asking the audience to just sing 'na na na' if they didn't know the lyrics was a tiny bit patronising.

Kelly Jones, playing his first solo stadium gig, was understandably nervous, but the home crowd seemed to adore him. Accompanied by an electric guitar, he sang 'Local Boy In a Photograph', 'Just Looking' and 'Maybe Tomorrow' - songs which were lapped up by the eager crowd and consequently backed by a chorus of many thousands.

Another of my favourite sets came from Welsh rockers, the Manic Street Preachers. James,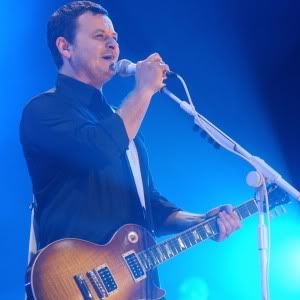 Nicky and Sean gave a stunning performance of a great selection of their hits, ranging from the guitartastic 'Motorcycle Emptiness' to new single 'Empty Souls' (which, when put amongst the others, doesn't stand a chance) to fan-favourites 'You Stole The Sun From My Heart' and 'A Design For Life'. I still regret not being able to make the Lifeblood tour, but I'm pleased I've seen one of my favourite bands at last, even if Nicky Wire, despite having his fluffy microphone stand, didn't say a single word.

Heather Small was another surprise crowd pleaser, who provided a small selection of singalongs, enjoyed by practically everybody. Unfortunately, 'Movin' On Up' wasn't included, despite numerous emergency renditions by the comperes.

Feeder were greeted by a startling amount of enthusiasm, opening their set with power-pop classic - 'Buck Rogers', playing 'Just The Way I'm Feeling' from their Comfort in Sound era, and their latest single - 'Tumble and Fall'. My verdict, as promised - it doesn't stand up when played with those other tracks, even when it's live. However, Feeder are forgiven, after teasing the crowd with a one-string rendition of the 'Just a Day' riff, they rounded off their set with that very song, something that is surely the best thing they've ever done.

Liberty X appeared to be very out of place, being the only act to dance on chairs or to, well, dance (obviously excluding Charlotte Church's 'clapping') and gave a lacklustre performance. Lulu performed only two songs, probably as a result of being a late addition to the list and Jools Holland and Eric Clapton...well. Both are extremely talented musicians in their own right, and while the music they produced was great, it wasn't going to get the adrenalin pumping, and instead, I was tired, and glad to be going home.

You can visit the official Millennium Stadium site here, and watch video highlights here, including complete sets from Snow Patrol and Keane.

Full show schedule:
15.15 Camera, 15.30 Katherine Jenkins, 15.50 Keane, 16.20 Raghav, 16.30 Charlotte Church, 16.45 Lemar, 17.10 Craig David, 17.30 Snow Patrol, 18.00 Goldie Looking Chain, 18.20 Badly Drawn Boy, 18.50 Aled Jones, 19.00 Brian McFadden, 19.15 Embrace, 19.40 Kelly Jones, 20.00 Manic St. Preachers, 20.30 Heather Small, 20.50 Feeder, 21.15 Liberty X, 21.30 Lulu, 21.45 Jools Holland, joined by Eric Clapton