Tips for the Brits (part five)
The Brits
are just days away now and while the thought of an entire evening with
Chris Evans
is causing a bit of a disturbance, but we're hoping the performances will take our mind off the disaster regarding the presenting. Part five explores two awards -
British Live Act
and the pointless and (apparently) predictable
Brits 25 - Best Song Award
...
You know the score - here's who's nominated,
who I would like to win
,
who I think will win
and
who I desperately do not want to win at all
!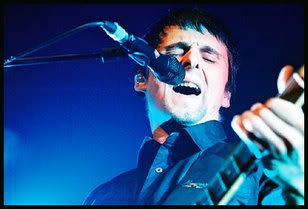 British Live Act
Franz Ferdinand
Jamie Cullum
Kasabian
Muse
The Libertines
I'm not particularly qualified to judge this one, am I? I've seen none of the above live, except for festival/gig clips on the TV or the odd performance on
CD:UK.
However, from what I've seen,
Muse
and
Franz Ferdinand
are equally deserving of the award. They give a real performance. As for
Kasabian
...I'll get back to you on that one at the end of April, and
The Libertines
? Not quite my cup of tea. This one seems designed to go to the Franz, but it all depends on who's voting...
Brits 25 - Best Song Award
Joy Division - Love Will Tear Us Apart
Kate Bush - Wuthering Heights
Queen - We Are The Champions
Robbie Williams - Angels
Will Young - Leave Right Now
There's a lot of controversy surrounding this award, and rightly so. Truthfully, I would include none of the above in my list of the top 5, or even perhaps 25, best songs of all time. Sure, they're good songs in their own right, but 'the best'? I don't think so. If I had my way, there'd be offerings from the
Manic Street Preachers
,
Ash
,
Coldplay
,
Garbage
and
Radiohead
. Alas, it's never going to be. Robbie's
'Angels'
is overrated (I prefer a lot of his non-single tracks) and
Will Young's
nomination was a huge shock. My vote went to
Queen
, but still,
'We Are The Champions'
is second best to
'Bohemian Rhapsody'.
I'm eager to know - what would
your
five nominations be?
What do you think?