The Delays @ Derby Assembly Rooms
The Delays
emerge from the wings to something of an applause. The crowd have been waiting at the barrier since 7pm, some having queued for most of the day, and the aforementioned support band have arrived on stage a little later than the previously announced 7:30, possibly due to the fact that somebody messed up the timings at Southampton the night before.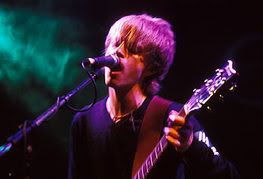 Nevertheless, the boys begin their set, launching into
'Wanderlust'
, the opening track of their debut album
'Faded Seaside Glamour'
, . There's a noticeable amount of vocal reverb, to add more strength to the voice of guitarist
Greg Gilbert
, which surges admirably, although you can't help wondering what he would sound like without it. His brother
Aaron
, and bassist
Colin Fox
provide backing vocals, creating warm, perfect harmonies - the base of the typical Delays sound.
There is a showcase of promising excerpts from the forthcoming second album, although the most well-received numbers are hit singles
'Nearer Than Heaven'
and
'Lost In A Melody'
and the latter really packs a punch, live. There is applause, and some cheering from the crowd, the atmosphere understandably more relaxed than what is yet to come. However, many are swaying, nodding their heads in time for the music or even dancing. In the aftermath of the gig, it appears the opinion of the audience has been split - some are loving the Delays' mellow sound and others end up labelling them mediocre and moving on.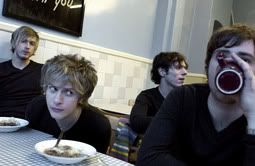 Greg Gilbert is very apologetic and humble for a frontman, not at all seeming arrogant, and seeming genuinely appreciative of this coveted support slot. He even apologises in advance for going out of tune (which he does) and smiles, half chuckling, half rubbing his face when he accidentally smacks his mouth into the microphone. This said - it got a louder cheer than the majority of the set, which was a little cruel. Meanwhile Colin and
Rowly
(master of the beats) keep a low profile, Aaron takes many an opportunity to swagger across the stage, drink in hand, almost as if the audience isn't there, leaving pre-programmed music to run free. It makes you wonder...
It was a good set, the band's performance slick and captivating, despite a few technical hitches, although it was nothing compared to what was yet to come.