Hannah's Single of the Week (13/06/05)
Yes, I'm back. And yes, what a week to be back. There's a plethora of huge (or at least interesting) releases this week from both the big shots and the WL favourites, some of which, rather surprisingly, haven't yet managed to reach my ears. Please leave any recommendations for what I really should have a listen to in the comments, or just comment to say hi - it's nice to know who's reading!
Anyway, before the bulk of this week's post, I have to once again say there is a lot of stuff worth a (even if it's rather brief) mention, this week. 'All Night Disco Party' is a quirky little release from The Brakes, and is worth a listen, as is Garbage's second single from 'Bleed Like Me', entitled 'Sex Is Not The Enemy'. It's a typical Garbage song and video, featuring Shirley becoming a bit of a manic street preacher in the name of sex - great stuff. Green Day also release their big ballad, 'Wake Me Up When September Ends' which is the effort of the 'world's biggest punk band' to tug a little on your heartstrings. It works quite well, although I'm a little annoyed by the presumptuous TV ads proclaiming it a 'hit single' before its week of release.
Special Mention:
Patrick Wolf - 'Wind In The Wires'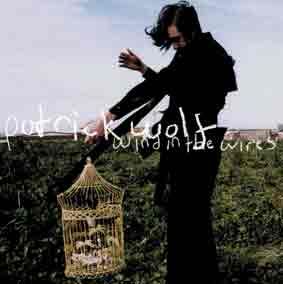 To any of you who have not yet had the good fortune to discover him, Patrick Wolf is an absolute delight to the ears, and a refreshing change from the usual soundtrack of WL. To try and find him a few more fans (he's virtually unknown in mainstream circles) I think I really should review this second single to be taken from Patrick's second album, 'Wind In The Wires'. While the first single 'The Libertine' (currently in the running for WL single of the year) was faster-paced and more intense, this gentler offering still has a magnificent crescendo and the unique voice that belongs to Patrick, himself, which I never fail to be absolutely captivated by. I really can't say an awful lot about the song, except for the fact that you should listen, and can do, here. It's a beautifully crafted track, although I really recommend buying the album to get a broader view of Patrick's masterful creativity. 4/5
Single of the Week:
Do Me Bad Things - 'Move In Stereo'


I'm inclined to say only the best of Do Me Bad Things. After all, I can safely say that they are the only band to send me multicoloured rock candy through the post and to take me on a voyage of musical discovery, proving that first impressions aren't always the most accurate. 'Move In Stereo' is yet another single from the band's fabulously glam debut album, 'Yes'. Originally titled 'Liv Ullman On Drums' it was changed to take the catchier subtitle 'Move In Stereo' for a single release. It is easily one of my favourites from the album, has a nifty little video (guitars for legs – great concept!), a sax solo and five vocalists belting out harmonies like there's no tomorrow, alongside some mean power chords. However, hearing (and seeing!) is believing, so have a watch of the video, courtesy of TOTP. DMBT may be a bit of a novelty act, but in the age of the Crazy Frog, this is much more fun. 5/5
More Releases:
Ambulance Ltd - Primitive (The Way I Treat You), Bark Psychosis - 400 Winters EP, Basement Jaxx Ft Lisa Kekaula - U Don't Know Me, The Brakes - All Night Disco Party, Cdoass - Speak To Me/Chemicals [7" only], The Conway Story - Ghost Writer, The Cribs - Mirror Kisses, The Dead 60s - Loaded Gun, Death From Above 1979 - Black History Month, DJ Sammy – Why, Do Me Bad Things - Move In Stereo, The Engineers – Home, The Fallout Trust - When We Are Gone, Fightstar - Paint Your Target, Garbage - Sex Is Not The Enemy, Green Day - Wake Me Up When September Ends, Jack Johnson - Good People, Jem - Just A Ride, Josh Rouse - It's The Night-time, Kano - Remember Me, The Long Blondes - Appropriation (By Any Other Name), The Longcut - A Quiet Life, Malik Yusef Ft Kanye West & Common - Wouldn't You Like To?, Melanie Brown – Today, Michael Woods Ft Judge Jules - Sp Special, Missy Elliott Ft Fatman Scoop & Ciara - Lose Control, Nelly - N Dey Say, Poker Pets Ft Nate James - Lovin' You, The Race - Raising Children, Reuben - A Kick In The Mouth, Riton – Candy, Shakin Stevens - Trouble/This Ole' House, Slipknot - Before I Forget [7" only], Son of Dave - Goddamn/San Francisco [7" only], Special Needs - Blue Skies, Steve Harley and Cockney Rebel - (Make Me Smile) Come Up And See Me, Strip Music - 24 Hours [7" only], Tears For Fears - Everyone Loves A Happy Ending/Call Me Mellow, Van Der Kill - Echo Beach