Freelance Videowatch...with Elz
Introducing my good friend Elz, music fan extrordinaire, who has somehow managed to keep her Franz fangirling to a minimum in her first video review, which will hopefully soon become a weekly feature on WL. Please tell us what you think! - Hannah
Freelance Videowatch:
Franz Ferdinand - Walk Away
(
official site
- lyrics, several videos, band gallery, band blog... these guys think of everything!)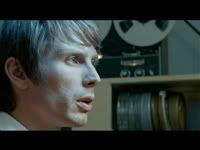 We all know about
Franz Ferdinand
; Scottish (but not really), arty (but not pretentious), breakthrough indie rockers (but...well, they are). After the fast-paced debut single from Franz Ferdinand's sophomore album, "
Walk Away
" is a surprisingly mellow ballad with dark, twisted undertones that make you question what exactly singer
Alex Kapranos
is walking away from.
The video, while at first seeming innocuous enough, appears to chart the break-up of a relationship, with the added extras of being chased by spies (Kapranos' bandmates,
Nick McCarthy
,
Bob Hardy
and
Paul Thomson
), with some marvellous fake driving by Kapranos. No,
really. Look at him go! On his arm, a pretty blonde who seems to be marginally more talented at acting than her co-star. Switching between colour and black-and-white film gives a very realistic feel to the idea that the action in "
Walk Away
" occurs during the forties or fifties. Filmed at Ealing Studios in London, Franz continue their tradition of taking inspiration from other sources; this video contains references to older films, including
To Catch A Thief
,
Suspicion
and
The Third Man
.
Part of the appeal of the video to "
Walk Away
" is that although there is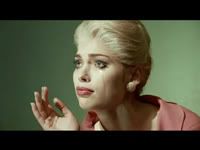 a plot, the intentions of the characters remain unclear, even after the video ends. I personally love this sort of ambiguity, especially since it plays along with the lyrics of the song. Even if you're convinced you've pinned down what's happening, Franz Ferdinand will change your mind within the next few frames, or at least make you doubt yourself.
Franz Ferdinand can always be relied upon to produce an outstanding video for each of their singles, and "
Walk Away
" certainly doesn't break the trend. In fact, the hammed-up acting just makes it even more amusing to watch.
4.5/5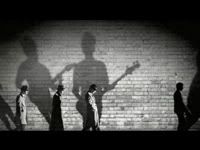 This video premieres on Channel 4 in the UK on Friday 4th November at 11:15pm. It's well worth taking the time out of your obviously packed schedules to watch it. Just make sure you're not being followed by creepy men whose shadows are playing instruments. That's never a good thing.