Win Supergrass Goodies!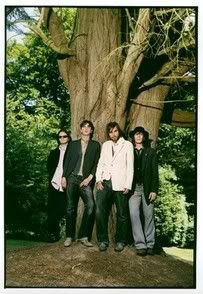 If you belong to the
Dave Gorman
school of thinking, you would understand perfectly why
Gaz Coombes
, Supergrass frontman, has allowed his ever-present sideburns to develop into a full-grown beard. Beards,
according to Dave
, are a sign of maturity. A sign of growing up at last. A sign of someone who wants to be taken seriously.
Apparently.
Therefore it makes perfect sense that Supergrass have evolved into something much, much more than the cartoonish indieboys famous for
'Alright'
and
'Pumping On Your Stereo'
. Supergrass-Part-Two has officially begun.
'Road To Rouen'
, the band's fifth studio album is musically both sophisticated and experimental – the beautiful, orchestral
'Roxy'
and the album's title track being prime examples of this. Lyrically, it's heartfelt and personal - a result of many an emotional shake-up affecting the band members in the past year. In short, it's delightfully different from anything the band have presented before. However, the playful spirit of Supergrass still remains and

the album still has a definite element of fun (just hear the instrumental interlude
'Coffee In The Pot'
and you'll know exactly what I mean) and is an absolute joy to listen to. At 9 tracks and under 37 minutes long, it may be a little 'compact', but as a result it's a focused and complete record, lacking any obvious filler.
In short, I love it, and so leapt at the chance to give two readers of WL a chance to win some great Supergrass goodies, courtesy of
Cornerstone Promotion
. I'm only a bit miffed I can't get my mitts on them, myself!
So, what's up for grabs?
We have two Supergrass goodie packs - one for a winner, and one for a runner up - consisting of: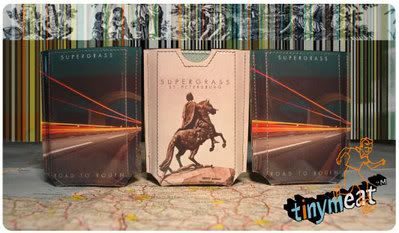 1st Prize: One limited edition Tinymeat Supergrass iPod case (pictured above), a copy of the fabulous 'Road To Rouen', some magnets, pins and 2004's 'Kiss Of Life' CD single.

2nd Prize: Two CD singles - 'St. Petersburg' and 'Kiss Of Life', magnets, and pins.
- COMPETITION NOW CLOSED -
Buy
Road To Rouen
on Amazon