Freelance Videowatch...with Elz
Freelance Videowatch:
KT Tunstall - Under The Weather
(official site - with video and music clips)
Anyone who knows me knows of my almost fanatical love for
KT Tunstall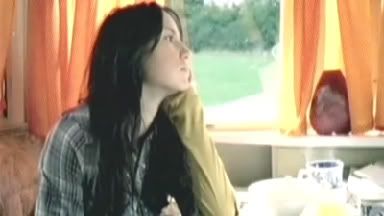 , and it just increased when she decided to release my favourite song from her debut album,
Eye to the Telescope
. "
Under The Weather
" is the first song I heard in full by KT, and in my opinion, should have been released long before now. The important thing to note is that the single is not the same as the album track, losing some of the more mournful tones in favour of the rocking rhythms seen in "
Black Horse and the Cherry Tree
".
But we're here to
discuss the video. While I feel it could have done with more rain, the setting and idea really suits the song. I'd quite like to move into that caravan with KT myself - it looks cosy, and, although prone to random indoor hurricanes, is probably really quite comfortable. The most striking thing about this video is the simplicity. There are no special effects, no enormously fancy performance scenes. This video is about the music, and it's refreshing to see that. At the climax of the video we move on from shots of KT riding her bicycle, reading, sitting in her car and walking around in a field with a rainbow in the b
ackground to the aforementioned internal hurricane. She must have had an interesting childhood if that's what feels like home.
After racking my brains to try and work out exactly how many performance shots there are, I can only think of two, both of which are wonderfully understated. I can't actually fault this video, and it thrills me. Shame the song only got to number 39 in the charts.
5/5