British Male Solo Artist 2006
The Nominees:
Antony and the Johnsons
Ian Brown
James Blunt
Robbie Williams
Will Young
What I think of each:
Antony and the Johnsons
- The inclusion of the 'and the Johnsons' bit makes me worry about the 'solo' bit, the fact he's lived almost all his life in America makes me worry about the 'British' bit and as for the 'male' bit...I'm sure a few people would take the opportunity to deliberate that one too. There's no doubt, however, that Antony has created some incredibly
lush and gorgeous music. I just can't stand his voice.
Ian Brown
- Last year Robbie Williams was apparently not eligible for nomination in this category due to him only releasing a Greatest Hits, and not a whole album-worth of new material. Now, unless I'm missing a trick here, the only new 'album' release that has come from Ian Brown in the last 12 months is his own Greatest Hits effort. Unfair?
James Blunt
- Regular readers will know exactly what I (along with Lewis) think of James Blunt. Next please.
Robbie Williams
- He's Brits eligible again, thankfully, and no matter what the majority of the critics say, I'm far too much of a fan to pretend to be snobbish about him. I did absolutely LOATHE
'Tripping'
at first, but I've come to like it, along with the rest of the
'Intensive Care'
album. I'm also off to see him as an 18th birthday present (thanks Mum!) .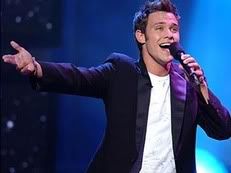 Will Young
- Here's one of those nominations that seems to crop up every year, and rightfully so. While I'm not one to go purchasing Will's records, I thought both
'Leave Right Now'
and the Brit-award-winning
'Your Game'
were marvellous singles, and his latest release
'Switch It On'
was a worthy followup. He's probably not going to win, considering who else is nominated, but it'd be nice to see him win the prize, just for a change.
Who should win:
Robbie Williams.
Who probably will win:
Usually, if Robbie is nominated, he's practically guaranteed to win it, but the mass backing of James Blunt means that this award could go either way.
Who, in an ideal world, should also have been nominated:
EDIT:
Patrick Wolf
! My humblest apologies, but I forgot because Patrick elevates himself to something resembling God status. In my head, anyway.
Comments, anyone?