Hannah's Single of the Week (23/01/06)
After the hectic musical buzz of last week and the frenzy of top 10 entires it would appear the dormancy of the winter chart is over. The musical year of 2006 has well and truly begun, and it would seem the Arctic Monkeys are the stars. Needless to say, that doesn't mean the supporting cast aren't better, especially considering this week heralds the release of my first 5/5 single of 2006. Although it's not mentioned on the main post, I strongly recommend the re-release of 'Boys Will Be Boys' by The Ordinary Boys. Preston's still in the Big Brother house, so presumably that's the only form of promotion it's getting, but with the single rising to 30 this week on download sales alone it'll be interesting to see how it charts. As for Big Brother itself, I'm supporting Maggot. :)
Single of the Week:

Protocol - Where's The Pleasure?
(official site (includes video) and myspace)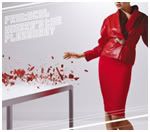 Protocol's critics say that the band are a little too late in catching the wave of electro-indie. Apparently electro-indie (or is it indie-electro?) is
so
over. Oh really? With the due return of both
The Killers
and
Delays
, I reckon it's going to be as big as ever. Last year
The Bravery
flopped, miserably. So what? That was simply because they didn't have enough good tunes. Protocol are completely the opposite. They have heaps of them. Heaps and heaps and heaps.
'Where's The Pleasure?'
is just one of them. Like
'She Waits For Me'
(one of my favourites of 2005) it's packed with pure adrenalin rush-inducing energy, an epic chorus, an eighties flavour, glossy production, a fab bassline and an irressistable singalong melody. Like Maximo Park, my only point of criticism is when it comes to the subject of the lead singer's hair.
5/5
Special Mention:

Alex Parks - Honesty
(official site and video)


Prepare yourselves for a surprise. This is a jaunty little acoustic number and, as far as Alex is concerned, you could even consider it 'lively'. It's catchy too, and is probably the last thing you'd expect from Miss Parks, aside from the identically named album's 'hidden' track, 'Tail And All'. Sadly for the fans of the upbeat, it isn't indicative of the album as a whole. 'Honesty' (the single) is a bouncy singalong with a distinctive country vibe and while it doesn't showcase Alex's vocal talents as well as her ballads, it's still clear she's one of the more interesting voices to emerge from reality TV.
4/5
Things that aren't that great:
Be Your Own Pet - Let's Get Sandy
There's a lot of hype about Be Your Own Pet. Apparently, they're 'a great new band' and 'one of the most promising new acts for 2006'. Whatever. I watched them on the TV at some festival and thought 'this is a load of thrashy nonsense'. I heard them on record...and they're exactly the same. What is so great about them, exactly?
1/5
LMC Ft Rachel McFarlane - Get What You Give
After making number one last year with 'Take Me To The Clouds Above', LMC are back with this rather limp dance version of one of my favourite nineties indie anthems. It takes away all the charm, excitement and fun of the New Radicals original and McFarlane's vocals just don't suit the song.
2/5

Starsailor - This Time
I know Starsailor are a band hardly blessed with any sense of originality, but 'This Time' wins the award for the sheer amount of previous Starsailor material crammed into one song. There are at least THREE points where this sounds exactly the same as something they've released before. The video also has the most terrible and predictable plotline, ever. After the majesty 'In The Crossfire', I'm decidedly unimpressed.
2.5/5
All Releases:
(ones I've heard in bold)
A-Ha - Analogue (All I Want), Alex Parks - Honesty, Be Your Own Pet - Let's Get Sandy, Beck - Hell Yes [7" only], Blondie Vs The Doors - Rapture Riders [12" only], Children Of Bodom - In Your Face, Circlesquare - Fight Sounds EP, Cut Copy - Going Nowhere, Deep Elem - Lost In The Woods [7" only], Don Fardon - Belfast Boy, Ferry Corsten - Fire, Fickle Public - Just Like I Got Used To Saying Courtney Cox Arquette, Infadels - Can't Get Enough, Isobel Campbell & Mark Lanegan - Ramblin' Man, Joan As Police Woman - My Gurl Sweet Thing [7" only], Kris Drever - Beads & Feathers [7" only], LMC Ft Rachel McFarlane - You Get What You Give, The Maybes - Stop, Look & Listen [7" only], Merz - Postcard From A Dark Star [7" only], Moby - Slipping Away, Motorettes - Super Heartbeats, Nightwish - Sleeping Sun, The Ordinary Boys - Boys Will Be Boys, Pharrell - Angel, Playgroup - Front 2 Back, Porno - Music Power, Protocol - Where's The Pleasure, Quantic Soul Orchestra - End Of The Road/San Sebastien Strut [7" only], Richard Hawley - Just Like The Rain, Rogue Wave - Publish My Love, Sam Brown - Ukulele & Voice EP, Seamus Haji Ft Emanuel - Take Me Away, Shortwave Set - Repeat To Fade, Starsailor - This Time, Steve Harvey Ft Cockney Rebel - Last Goodbye, Sugarmonkey - So Far Too Late, Young Jeezy Ft Akon - Soul Survivor, Your Vegas - Flybuzz
What's your single of the week?