WL Does The Brits 2006
There's a large part of me that doesn't want to take the Brit Awards seriously. The fact that James Blunt is leading the nominations count (he's up for five) bothers me..lots. Let's hope he does a Craig David and goes home with none, shall we? As ever, I'm also bothered by the sheer lack of variety in the list of acts nominated. It's as if the panel compiled a list of the most talked-about bands of 2005 (missing out a few obvious candidates along the way) and tried to see how many categories they could fit each one into.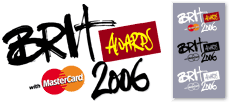 Surely a few lesser-known souls are equally deserving of some of the awards, especially considering the nominees for some of them (moreorless) seem to be the same year after year after year. What about Patrick Wolf? Rufus Wainwright? Maximo Park? Bright Eyes? The Rakes? I'm rather surprised, too, that Bloc Party didn't crop up ANYWHERE. It pains me to see nominations based on quantity sold than quality of songs, even though I know that's the way it's always going to be.

That's the thing though - the Brits is Britain's biggest music awards show. The public, in general, care about it more than most others, so why not give the masses what they want? If a bunch of unknowns were nominated every time, who, except the indie kids, would be watching?

So, as we near to the awards ceremony itself, and even with my disgust at some of the nominations, I do care, and I'll be running a commentary on who's up for what, who I'd like to win, who I think will, who should have been nominated and who definitely shouldn't.

Should be fun.