British Group 2006
The Nominees:
Coldplay
Franz Ferdinand
Gorillaz
Hard-Fi
Kaiser Chiefs
What I think of each:
Coldplay
- Ah, Coldplay. I 'starred' in your video. I love to play your music on my piano. My friend loves to take that one step further. Ahem. However, there's one thing that really shows through when playing the music for
'X&Y'
- in comparison to some of what came before, it's a bit boring, a bit lacklustre.
'Fix You'
and
'Talk'
definitely weren't bad singles and the live experience was fantastic, but I just don't believe you're as good as you were for the first two albums.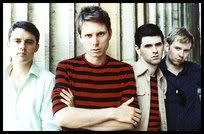 Franz Ferdinand
- Somehow, I still think this 'scottish' foursome are tremendously underrated, and underappreciated. For how incredible they are live, for the strength and consistancy of the songs they write...they just don't sell enough records.
'You Could Have It So Much Better...'
was my favourite British album of 2005. Franz were my favourite British band. Enough said.
Gorillaz
- Okay, so we know Gorillaz are far from your conventional 'group' line-up. They're four cartoon characters and it's all really
Damon Albarn
(and friends) in disguise. Still, they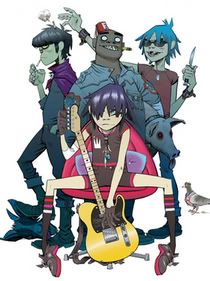 are a group - when it comes to the Brits you can't classify them as anything else. Their singles last year were all fantastic, yet overplayed. I've only heard the album through once or twice so I can't comment there, but what I can say is I'm really looking forward to their Brits performance.
Hard-Fi
- Hard-Fi are likeable enough, tolerable, radio-fodder with a clever video (
'Cash Machine'
). I won't turn over if they're on, but I won't buy their album, either.
Kaiser Chiefs
- At the tail end of 2004, I couldn't wait for the Kaiser Chiefs to make it big.
'I Predict A Riot'
was a top 30 hit, and the future looked bright. Then the critics started hyping them up, almost to an
Arctic Monkeys
level, and that really put me off. I enjoyed their singles, but part of me didn't want to give in and become one of the masses. I didn't want to like them just because everyone else did, if you see what I mean. Gradually I've warmed to the band. There's something really endearing to me about the fact that they have a left-handed guitarist, a keyboard player with a hat, a ginger frontman and a drummer that (let's face it) does all the work. Anyone who knows me well will know why. My brother is the diehard fan, but I'm still off to see them live.
Who should win:
Franz Ferdinand. They made the best album, are stunning live, and have a great group dynamic. Their new DVD is rather bonza, too!
Who probably will win:
Coldplay or Kaiser Chiefs, in a world of awards where sales figures appear to count. However, if the public are voting for this one, it could be a case of 'who has the largest online fanbase'? It'd also be interesting to see Gorillaz win just for the speech.
Who, in an ideal world, should also have been nominated:
Do Me Bad Things, Maximo Park, Manic Street Preachers, The Rakes...the list goes on and on.
Comments, anyone?