Hannah's Single of the Week (06/03/06)
This week the charts are supposedly incorporating a new rule - downloaded songs will now also count in the main chart one week before their physical release, rather than only counting the week the CD/vinyl single is out (as they do currently). Confused yet? Essentially this means the charts are going to get more interesting, with many singles climbing on their second week in the chart. Otherwise their influence on the chart itself should be pretty minimal - after all, it's only one day after they actually chart that you can find the single on the shelves of your local record store. For example, this Sunday you might expect to see the Black Eyed Peas' 'Pump It' somewhere in the top 40.
As for how this change will affect WL, we'll still be reviewing singles to coincide with their physical releases, and our general release listings should hopefully still reflect this. Support the physical formats, people!
Special Mentions:
Jenny Lewis - Rise Up With Fists
(official site - includes video)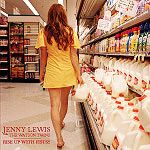 The Rilo Kiley frontwoman and my voice of 2005 is back with the first single from her debut solo effort
'Rabbit Fur Coat'
. The album's good, but it doesn't quite measure up to her band's recent album
'More Adventurous'
due to the noticeable absence of guitarist and musical influence Blake Sennett. Still,
'Rise Up With Fists'
is one of the stronger tracks on the album and makes a fine single. The country influences really shine through here, accentuated by Jenny's gorgeous vocal, the lush harmonies provided by The Watson Twins and the acoustic guitar-driven nature of the piece. Next time, though, I'd like something with a little more motion. I'm keeping my fingers crossed for
'Big Guns'
.
4/5

Placebo - Because I Want You
(official site and video)

Brian Molko
and co. are back. This lead single from their new album,
'Meds'
is, to put it simply, Placebo-by-numbers. This is good if you like the odd bit of Placebo, as I do, but there's nothing particularly original or inspiring here to convert the non-fan - see this week's review from
Lewis
for a prime example. It's true - the lyrics are cliched, tired and repetitive and after over a decade of making music, you'd expect something a little more innovative from this band. The song's a good listen - I certainly wouldn't turn it off if it came on the TV or radio - but it just doesn't provide any incentive to buy the single or the forthcoming album. Sorry boys - something a little more inventive next time?
3.5/5
Single of the Week:

The Rifles - Repeated Offender

(

official site

and

video
)

I was first drawn to this song by the simple fact that the band have a left-handed frontman. It's something a little different. Mind you, the Rifles aren't
that
different, really. They're yet another new band utilising the ska-but-not-quite vibe preferred by hit-makers
Hard-Fi
,
The Dead 60s
and
The Ordinary Boys
. However, like the aforementioned bands, they are also capable of producing a decent single somewhere along the way.
'Repeated Offender'
is a speedy, pogotastic indie-anthem-in-the-making with a catchy chorus and lead riff. It's brief, too, running to only just over two and a half minutes. Adrenalin-rush pop for the indie discos - I like it.
4/5
Attack of the girlbands:
Sugababes - Red Dress
(
official site
and video)

The 'babes deserve a mention this week, purely due to the fact that their line-up has changed for the second time since they first made an appearance on the charts.
Mutya
has left, and in her place is a young lady named
Amelle
, and it is on this single that she makes her debut. And that is quite possibly the most exciting thing about this release. It's nowhere near as catchy or infectious as
'Push The Button'
or
'Ugly'
and lacks a certain spark they both possessed, even if the latter's lyrics weren't exactly up to scratch. So, it is now we look to the b-side, as the girls cover the breakthrough track of one of the most talked about bands of the moment - the
Arctic Monkeys'
'I Bet You Look Good On The Dancefloor'
. They haven't changed it radically, but with a good song as a base, you can't go far wrong.
3/5

The Like - June Gloom
(official site includes video)


Very rarely does an all-girl rock group get taken seriously. It's even more rare that an all-girl rock group has much success.
The Faders
and
Love Bites
(the latter limping in at 48 last week) have fallen at the first hurdle, so are The Like, the girl group from across the pond, likely to do any better? Possibly. They've got the critical backing from
Q magazine
(**** for their debut album) and
'June Gloom'
, their current single, hints at a less 'pop' sound than their contemporaries. Do I like them? I'm not sure. You see, looking at several of their promo photos they seem to have a large focus on image and look almost as if they've been let loose with several hundred pounds in Topshop. As for the music itself,
'June Gloom'
has a bouncy Strokes-esque verse which jarrs a little uncomfortably with the general doom-and-gloom chorus. A chorus that sounds suspiciously like a blatent rip-off of Radiohead's classic 'Creep'. However, it does posess a sophistication and moodiness that stands the band above the rest of its kind. They're alright, really.
3/5
All Releases:
(ones I've heard in bold)

8 Wonders - 8th Wonder Of The World, Above & Beyond - Alone Tonight , Absentee - Something To Bang, Avenged Sevenfold - Beast & The Harlot, BC Camplight - Blood & Peanut Butter, Beauty Shop - Monster, Bob Schneider - Captain Kirk, Bow Wow feat. Ciara - Like You, Camera - Out Of The Water [7" Only], The Concretes - Chosen One, Craig David - Unbelievable, David Gilmour - On An Island, Delilahs - This Is It [7" Only], Diamond Nights - Girls Attractive, Disturbed - Just Stop, Engerica - Smell, Fightstar - Waste A Moment, Flying Matchstick Men - All Yr Secrets, Gemma Hayes - Undercover, Hundred Reasons - Kill Your Own, Jaed - My Way, Jamie Cullum - Photograph, Jamie T - Betty & The Selfish Sons EP, Jane Weaver feat. Meadows - Is Everyone Happy? [7" Only], Jason Mraz - Geek In The Pink, Jenny Lewis - Rise Up With Fists, Julian Jabre - Swimming Places, Kanye West feat. Lupe Fiasco - Touch The Sky, Karmakops - Creatures/Come Back To Me, Koufax - Why Bother At All?, The Like - June Gloom, Living Things - Bom Bom Bom, Louie - Curves & The Bends, Marshals - Make Her Cry, Michael Jackson - Billie Jean, The Modern - Industry, My Robot Friend - 23 Minutes In Brussels/Dial 0 [12" & 7" Only], Neck - Everybodys Welcome To The Hooley, Nightmare Of You - Days Go By Oh So Slow [7" Only], Pendulum - Hold Your Colour (Remix)/Streamline, Pharcyde - Otha Fish [7" Only], Placebo - Because I Want You, Presets - Are You The One? [7" Only], Ray-J - One Wish, Reel People - In The Sun, Rifles - Repeated Offender, Rodrigo Y Gabriela - Tamacun [7" Only], Sarah Harvey Smart - Blinding, Shapeshifters - Incredible, Shimm 1 - Party, Skin - Just Let The Sun, Skyy - Easy/Slow Motion [7" Only], Spinto Band - Direct To Helmet, Stereolab - Whisper Pitch/Excursions Into Oh-Ah-Oh/Eye Of The Volcano [7" Only], Sugababes - Red Dress, Test Icicles - Totally Re-F*cked [7" Only], Ultrabeat Vs Scott Brown - Elysium, Unsound - Devote Your Life To A Lost Cause [7" Only], Yellowcard - Lights And Sounds
What's your single of the week?