Hannah's Single of the Week (03/04/06) PART TWO
Part two of this week's mammoth sotw post...
Special Mentions:
Gnarls Barkley - Crazy
(official site - with audio stream)


Everything
DJ Dangermouse
touches turns to gold. No, really. It does. Considering this single (appreciated by the indie kids, radio 1 and 2 listeners, and hip-hop lovers alike) is the first to become a UK singles chart number one solely on download sales (yes, you probably know that already, and we don't understand the fuss, either) the charts have become something of a hot topic once more. To be honest, what's more impressive than the whole 'downloads-only' feat is the fact the resulting publicity has given
'Crazy'
some amazing combined sales. The single, only one day into the sales week, had managed to shift some 50,000 copies, which is more than the total most of the number ones of this year have sold in a whole week. So, what does WL make of the latest collaboration from the producer of
Gorillaz
's hit album
'Demon Days'
? Okay, I can't speak for Lewis, but I love it, despite the fact it's not the type of thing I'd usually go for. There's something extremely subtle and soulful about it, the background strings really add something to it without dominating the song and the vocals are truly mesmerising.
4.5/5
Larrikin Love – Edwould
(official site)


If it wasn't for the fact they've got some association with WL favourite
Patrick Wolf
, I wouldn't have given Larrikin Love a second look. On first look, you see, they're another NME indie band that sound suspiciously like the
Libertines
. And yes, it's true, they do sound a bit like the Libertines, but they're a Libertines with worse hair, better guitarwork and a fiddle solo. It may be a piece of fast-paced, almost generic, indie, but the fiddle (and a few other nice, original touches) make it stand out from the rest.
4/5
White Rose Movement – Girls In The Back
(official site - includes video)

Oooh...pretty electropop from some more mates of The Mighty Boosh. Well, no, it's dirty, edgy electropop, as opposed to the mega-glossy stuff I tend to favour, but so much the better. The follow-up to last year's top 75 hit, 'Alsatian' , 'Girls In The Back' actually sounds rather different in comparison to its predecessor. It's far more danceable, and even comes off sounding a little like a novelty record.
3.5/5
The Zutons – Why Won't You Give Me Your Love?
(official site and e-card)


The verse promises so, so much, and the over-repetitive, two-note chorus (guys - what do you think you're doing?!) doesn't quite deliver...but that's the only problem, though a big one it may be, with the song. Mind you, this lead single from the Zutons' second effort,
'Tired of Hanging Aro
und' has so much going for it, I'm going to overlook the chorus and concentrate on what really makes it great. The verse, the stop-chorus, the video, the outro...basically everything
except
the chorus, is verging on sublime.
4/5
Box Five - fen EP
(official site - download fen for free!)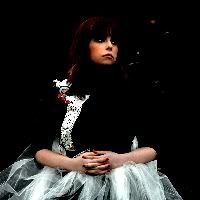 I make a lot of fuss about Box Five, I know, but I wouldn't if I didn't think that
Mary Bichner
and her every changing band of musicians didn't deserve every little bit of it. Box Five may be unsigned, they may be based in Philidephia, USA, but the music they've produced has made a real impact on me. This is Box Five's second studio EP, following on from 2005's
'Exercises In Modern Pop'
and is, by all accounts, far darker, less bouncy, but ultimately more eerily beautiful than ever. Don't get me wrong, I do miss the bounce, and some stamina is required to last out listening to five-minute-long tracks first time round but it's still good. Different, but good.
Mary's lyrics (with intelligent references, and interesting subject matter) really shine through here, as do her stunning vocals and the melodies she writes that really show them off.
My favourite track on the EP is currently
'Ceasefire'
, but each song has something to love from the sheer beauty of the piano on
'Doctrines'
to the entire lot of the bizarre
'On Dying (For Attention)'
. I still, unlike many of the fans, prefer
'Exercises In Modern Pop'
, but this EP is a fine successor, showing both Mary's development in confidence and ability to write very different sorts of tunes.
4/5

All Releases:
(ones I've heard in bold)
3 More Swallows - Monkey VS Shark, Babyshambles – 32nd Of December, Belle & Sebastian – The Blues Are Still Blue, The Charlatans – Blackened Blue Eyes, Cord - Go Either Way, The Crimea – White Russian Galaxy, D4L - Laffy Taffy, Enya – It's In The Rain, The Fratellis - Creepin' Up The Backstairs: The Fratellis EP, Franz Ferdinand – The Fallen/L.Wells, Gnarls Barkley – Crazy, Hypo Psycho - Somebody, Someday, Ichinchilla – Record Player, The Immediate – Make Our Devils Flow EP [Ltd], Isobel Campbell & Mark Lanegan – Honey Child, Jaheim - Everytime I Think About Her, Keyshia Cole – I Should Have Cheated/I Changed My Mind, Larrikin Love – Edwould, Lethal Bizzle - Mind Your Head, Lost Alone - Blood Is Sharp, Lucia Evans - Bruised But Not Broken, Make Good Your Escape - Beautiful Ruin, Mark Morrison feat. DMX – Innocent Man, Mary J Blige & U2 – One, Michael Jackson – Dirty Diana, Mick Karn - Of & About, Mish Mash feat. Lois – Speechless, Mocky – Fighting Away The Tears, The Motorettes – I Am Blisters I Am, Mrs Robinson - I'm A Little Obsessed, Mujaji - On A Bridge Between Clouds, Nada Surf - Always Love, Nizlopi – Girls, OK Go – Do What You Want, Plan B – Missing Links / Breakdown [7" Only] [Ltd], Richard James – My Heart's On Fire, Scape feat. D Empress - Be My Friend, Stu Allen – A Feeling, Subways – Rock & Roll Queen, This Is Seb Clarke - Fall, Tiga – Far From Home, The Victorian English Gentlemens Club - Amateur Man/Ban The Gin [Ltd], White Rose Movement – Girls In The Back, Wigwam – Wigwam, Wills & The Willing - 21st Century Love Song, The Zutons – Why Won't You Give Me Your Love?