WL Live - Kaiser Chiefs/Graham Coxon/Polysics - NIA, Birmingham
Kaiser Chiefs are a band that probably need no introduction, but I'll do one anyway. After the top 30 success of 'I Predict A Riot' in late 2004 they dominated all the 'bands to watch' lists at the start of 2005. And, soon enough, they were easily one of the biggest bands of the year selling shedloads of albums and having several hit singles. However, for everyone that likes the Kaiser Chiefs, there's probably another person that doesn't. It's true - they're hardly the most original band on the planet, play fairly simple music that's been ridiculously overplayed on TV and radio and base most of their songs around 'ohohohoh' or 'na na na na'. Mind you, as I found on Wednesday night, this sort of stuff can translate really well to a live performance and with that and frontman Ricky's relentless energy the Chiefs' biggest tour yet generates a great crowd response.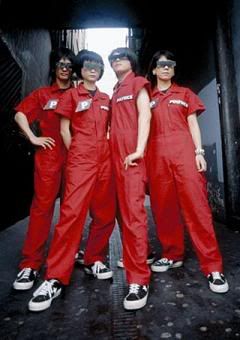 Opening for the Kaiser Chiefs were a band from Japan. Polysics fuse punk, J-pop, new wave and noise music. They also wear red jumpsuits and did a rather nice remix of Bloc Party's 'Luno'. That was pretty much all I knew of them before I saw them for myself. My verdict? Scary. Not scary in a creepy, horror movies way but more out of disbelief for something so completely and utterly bizarre! Being the Britpop devotee that I am, I'd never experienced anything remotely like J-Pop first hand...before now. The Polysics set came across like a twisted Japanese electro version of one of the stage shows at Disneyland. In fact, it summed up my idea of Japanese music - very cartoon-like, zany high-pitched vocals and music being an aural equivalent of an epileptic fit. I couldn't deny their energy (starjumps across the stage, anybody?) or their performance, but I found it all a little too much.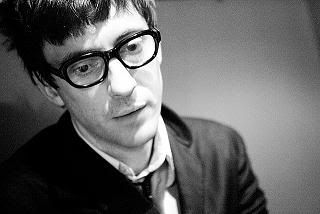 I sense some irony here. Kaiser Chiefs have oftened been dubbed a
Blur
rip-off, and yet here is Blur's ex-guitarist,
Graham Coxon
, writer of my favourite Blur song of all time (
'Coffee and TV'
) being the band's main support. Stuck in the seating of the arena I wondered just how many of the audience realised just how many iconic riffs ('
Parklife'
, '
Song 2'
et al) had been performed by the awkward, unlikely frontman now gracing the stage. I say 'awkward' not because Graham doesn't know what he's doing (he does, and he's a fantastic guitarist) but because of the fact he's a shy-looking bespecled man looking and sounding like a teenager despite being in his mid-thirties. Performing a set largely comprised of blistering, snarling punk there was no time to showcase Graham's softer side as he picked out the fastest, brattiest songs from his new album, as well as the singles from
'Happiness In Magazines'
. The highlights of the set were
'Bittersweet Bundle Of Misery'
and forthcoming single
'You and I'
. It was clear from the way they came across live that both songs are easily the best things he's done in his solo career. Even my brother (who rarely likes anything I do) said of the latter:
'What's the song called? It was pretty good!'
As for Graham - he seemed to be thoroughly enjoying himself, leaping around like a lunatic, kicking his legs, rolling on the floor and generally enjoying playing his music to a large audience. He reckoned we were 'one of the best' he'd had, although I wasn't so sure. He was great, but I'd definitely opt to see him as a headliner in a smaller venue next time!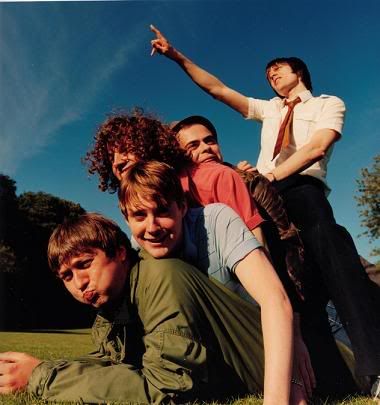 Now for the stars of the night. They opened with
'Everyday I Love You Less and Less'
partly whilst concealed behind a giant red curtain, accompanied flashes of bright light co-ordinated with the pulsating intro. Curtain down - cue big cheers all round. Then seconds later - cue disappointment from me - there were no video screens, at all. In fact, for an arena gig, there wasn't much of an elaborate set-up, just a multi-tiered stage so you could see all the band.
However, as the gig progressed it became obvious that even though the band seemed to be blurry figures in the distance, it wasn't going to have any detrimental effect on the gig itself. Just like when they went down a storm at the festivals, the Kaiser Chiefs dominate an arena setting with ease.
All the hits (and album tracks) present and correct, the set is consistent with many of the songs sounding far better live than they do on record. Sure, the musical cliches are still there, but when performed live, complete with audience participation, there is a whole new dimension to songs that previously didn't move me and, um...weren't the kind of thing that I liked. Heh.
So it's not exactly surprising when only a few songs in, and frontman Ricky Wilson claims to be 'throwing a spanner in the works' by performing a new song, it doesn't turn out like that. In fact, this new one was just as good as the rest of the set even on the first time of listening. I'm looking forward to hearing it on the next album.
Alongside the relentlessly energetic Mr Wilson (who was constantly moving, covering the entire stage several times over - why isn't he stick thin?) are the rest of the band. On the lower right, with legs like springs, is bassist Simon who proceeded to bounce around for most of the night. On the lower left is Whitey, the band's guitarist who remained static for most of the night while somebody conveniently forgot to light him up. Insanely popular drummer (and chief songwriter) Nick and hat-wearing keyboardist Peanut are both on platforms towards the centre of the stage.
My main reason to praise the Chiefs for giving me such a great evening was that in a live setting they turn what are merely good tunes into proper anthems - the biggest anthem of all being, of course,
'I Predict A Riot'
. An anthem we enjoyed so much that, when it came to the end of the song we didn't notice Ricky was, um...missing.
Of course, he re-emerged...standing on a platform next to the mixing desk right in the middle of the crowd. Very, very exciting, especially for our friend Hannah (yes, another one, not myself), who managed to find herself right in front of the Chief Kaiser himself. From his central position Ricky led the crowd in a wonderful rendition of one of my favourite album tracks -
'Caroline, Yes'
- and engaged everybody in a lot of mexican waving, saying how much he'd loved it when we'd been doing it in the interval to keep ourselves amused.
Finishing, in typical Kaiser Chiefs fashion, with a very much extended version of their no. 6 hit
'Oh My God'
the band left me feeling utterly fantastic and, well...something of a fan. Pretty good for a band I'm largely indifferent about, eh?